Home Study Course
"Instantly Tap Your Hidden Public Speaking Confidence! Go Out Tomorrow and Give the Knockout Presentation You've Always Wanted to Deliver… Without Any Stage Fright — Wow Your Boss, Coworkers, and Clients!"

Dear Friend:

If you are interested in "fast tracking" your way to becoming a top person in your profession, and eliminating your fears of public speaking forever, then you'll want to read every single word in this message.

Here's why…

Like you, I've dreaded an upcoming speech or presentation…

The sleepless nights before your big presentation…the crippling fear as you wait for your turn to speak…your knees shaking as you reach the platform…

…and lastly, the shame and embarrassment you feel as you make your way back to your seat, knowing you had lost the opportunity to make a positive impression on your audience…

Later, I learned the secrets of speaking without fear to an audience. In fact, I make my living today by speaking in front of people, sometimes on a daily basis.

Let me tell you a quick story on how I did this…
"How Completely 'Choking' on a Speech Gave Me the Secret to Fearless Presentations"
My first career was as a contractor for a large oil and gas company, and the end of a three month project, I was asked to give a presentation to the executive committee about the results.

Of course my boss was in this meeting…and my boss's boss…and three vice-presidents, a lot of my peers, and various observers….

In the beginning, I didn't think much of this presentation, but as the day moved closer and closer, I began to get more and more nervous. My boss told me that this would be a great opportunity to shine.

He said that if I could just get across to this group how productive I had been to the company, then I would have no problem getting a generous permanent offer from the company.

Talk about turning up the dial!

The big day came, and as I walked into the room, trembling from the fear and pressure. As the director called my name, I stood and moved my hands to pick up my notes. When I did, the napkin that my hand was resting on came with me — attached because of the sweat that now seemed to be pouring from my palms.

As I peeled it off, I picked up my notes, and I could see the pages shaking in my hand. I just prayed that the people in the audience couldn't see it.

As I spoke my first sentence, I could feel the beads of sweat on my forehead, so I pulled the sleeve of my white shirt across my brow. A few seconds later, I used the other sleeve and continued alternating them throughout the presentation.

As I looked into the faces in the audience, no one was nodding. Most people just had blank looks of confusion. When I sat down, there was utter silence in the room. The director called a break. I looked at my sleeves, and they were soaked to my skin.

I was so embarrassed that I wanted to crawl under the table and die! If I could have walked out of that room and never laid eyes on any of those people again, I would have gladly done so.

I was crushed. I had never failed this badly at anything.

Because of that failure, though, I got mad. I made a decision that I would never have a challenge like that again. So I read everything I could about public speaking… I took dozens of seminars and courses about presentation skills… and I hired some of the best public speaking coaches in the world to work with me. Now remember, at this time, I was flat broke, but I made that investment, because I knew that public speaking was a very highly sought after skill set.
Now You Can Speak Without Fear with More Self-Confidence — Faster than Ever Before!
I tell you that story so you can see where I came from. I was nervous.. I had the shaky hands and sweaty forehead. I had the same symptoms that you do (probably even more severe than you.) And now, I speak in front of large groups of people for a living. In fact, when I speak to big corporations, now, I generate thousands of dollars per hour in speaking fees. If I can do this, trust me, YOU can do this!

It's also the reason why I founded the Fearless Presentations® seminar, so I can teach others the valuable lessons I had to learn the hard way.

You see, your abilities as a person are just like an iceberg. That huge mass of ice that you can see from the surface is just the tip. Most of the iceberg is hidden below the surface. It's the same with most speakers. Most of what you're truly capable of is buried beneath the surface. And deep inside of you is a hidden public speaking confidence, which you can tap whenever you want, just by learning a few simple, easy-to-learn system. Best of all, you can learn this system in as little as two days.

How do I know my system works?

I've been a professional speaker and trainer for over seventeen years specializing in public speaking, sales training and team building. I'm also author of the books 28 Ways to Influence People, Cultivating Customers, and Fearless Presentations. Over my career, I've accumulated over 4,500 hours of classroom coaching and training.

I've taught people from all walks of life – from salespeople to lawyers, from CEOs to small business owners – the secrets of how to calm their nerves, double their impact, and cut their speech preparation time in half.

For or the last 11 years, my company's been offering a live training program called Fearless Presentations® seminar, where I've taught over 1100 public speaking classes in cities all over the world to more than 10,000 students.

My clients have include companies such as AT&T, Abbott Labs, Accenture, Acumen Solutions, Administaff, Adobe, Aetna, Alcoa, Alcon Labs, Allstate, American Cancer Society, American Society of Civil Engineers, American Express, American Red Cross, Amerisourcebergen, Amgen, Anheuser-Busch, AstraZeneca, Auburn University, Australian Trade Commission, and that is just a small percentage of the companies who use our service whose name begins with "A".

My system has worked for all of them, and it will work for you too!
Using this System, You'll Never Again Feel Afraid to Give a Presentation

Many of our students have started just like you…

Butterflies in their stomach before every presentation…

Shaky hands, sweaty palms, difficulty in organizing thoughts…

Stumbling and stammering through "ums" and "ahs", forgetting key points to talk about out of sheer nervousness…

It's almost too painful to think about, isn't it?

Now imagine standing in front of a room full of strangers … and feeling absolutely at ease with yourself and in command of what you have to say. Imagine your audience hanging on your every word, as you show them exactly how you can expertly help them improve their lives.

Then imagine what it will be like to give a flawless, natural speech – as natural and easy as talking to a close friend – and deliver it fluently and with confidence, without even using notes!

Can you feel the power and confidence you'd radiate when you can speak without any stage fright while giving a presentation? Can you hear the sound of enthusiastic applause from a group of smiling people who have truly enjoyed hearing your words?

And because you're charismatic on the platform, people will seek you for your expertise, hear your perspective on an issue, or help you further your career…
Here is the Quickest, Easiest Way to Eliminate Public Speaking Fear — Before Your Next Speech!

These are just some of the benefits we have taught our students over the last decade.

And best of all, my company has had a 100% success rate in teaching this.

It seems incredible, but its true. How can I know this?

I know, because I ask our students. Every single person who completes the class is asked two questions at the conclusion. First: "Was the class worth the tuition?" Second: "Would you recommend the class to your friends?"

Since I started teaching public speaking tips in 2002, every single participant has answered "YES" to both of these questions.

No other training company in the world has had a record of accomplishment like this.

Our live seminars are one the best places to gain poise and confidence in front of a group. But over the last couple year's I've been bombarded with questions such as "I can't afford to travel to your training, is there anyway you can help?" or "I don't have time to leave my job and family for a live seminar, what can you do for me?"

Now you can learn the core of the Fearless Presentations® from the comfort of your own home!

"You can't afford NOT to take this course. When I was told that my main development opportunity was to overcome my fear of public speaking, I decided to do something about it. Now, I have the self-confidence and the skill to get to the next level of my career."
– Geoffery Matous, Hartford, CT

Introducing the Fearless Presentations®
Home Study Course
The Only Program of Its Kind Designed Specifically to Teach You How to Achieve Total Confidence When Giving a Speech or Presentation
I designed the Fearless Presentations® from the ground up to give you the tools you need to quickly get started on the path to public speaking success.

You'll learn transform your public speaking skills in just minutes a day, skyrocket your self-confidence and command instant respect from your audience whenever you give a presentation.

This home study program will help you reduce nervousness, get rid of the butterflies, stop the shaky hands, and eliminate sweaty palms, once and for all. It will help you feel as comfortable presenting to a group as you are talking to a friend in the office. Best of all, you'll get all the information you need in an easy-to-learn package.

"Fearless Presentations® is outstanding. I'm more confident now than ever before. It offers great presentation techniques and public speaking tips that are easy to implement."
– Keeley Searles, Chicago, IL

Here's a "sneak peek" into the astonishing public speaking secrets this course reveals…
How to Quickly Eliminate Any Hint of Fear Before and During Your Speech…

| | |
| --- | --- |
| | The best defense to beat public speaking anxiety and stage fright. |
| | 10 easy steps to get "nerves of steel" on stage (it isn't as hard as it sounds!) |
| | A simple easy-to-remember technique to reduce 90% of stage fright in just seconds – try it before giving your next speech or presentation, it really works! |
| | What to do when you feel yourself paralyzed with fear in front of an audience. |
| | Recover after giving a terrible performance and bombing on stage – how I did it after a disastrous speech, and how you can too. |
| | Instant cures for the butterflies in your stomach, shaky hands and sweaty palms (you'll be shocked on how simple some of these are to learn and use). |
| | The amazingly fast way to overcome nervousness and discover your own natural speaking style. |
| | A "magic bullet" technique that lets you calm your nerves before a speech, and sleep like a baby the night before (takes only seconds to perform). |
| | Where to direct your eyes for an instant calming effect on stage. |
| | How to breathe normally and reduce the rapid heartbeat, trembling, and adrenaline rush triggered by speaking in public. |
| | Am extremely easy five-second exercise to clear your mind and calm your nerves (use it whenever you are faced with a stressful situation dealing with people). |
| | Foolproof methods to add excitement and energy to your next speech – extremely easy and you will find yourself instantly energized before your speech. |
| | The most powerful cure for stage fright ever devised – as taught by a famous life insurance salesman who gave thousands of speeches over his lifetime. |
| | |

"I have now received the necessary tools, techniques and skills I need to be an effective and dynamic presenter."
– Dan Richards, Seattle, WA

How to Completely Dodge the Embarrassing Mistakes that Plague 85% of All Speakers…

| | |
| --- | --- |
| | Everything that you have ever learned about public speaking is wrong! Find out these myths holding you back. |
| | What's you're doing with your hands that cause professional speakers to snicker behind your back. |
| | Why 'toasting clubs' (such as Toastmasters) simply won't work for some people. |
| | You only have less than 60 seconds to establish credibility with your audience before they'll tune you out – here's how to do it. |
| | Why you should never, ever videotape yourself to practice your speaking (so-called "experts" advocate it – and it's killing your performance!) |
| | How to avoid the fatal mistake most speakers make when presenting data, statistics and technical facts. |
| | Why you should never, ever memorize a speech – what you should do instead. |
| | The one thing you don't want to do with your hands during your presentation – follow this advice and avoid looking silly and nervous! |
| | Why using note-cards almost never works almost never works, and the one surefire technique which guarantees you'll never be at a loss for words. |
| | What to do if you are put on the spot and forced to talk in front of people without warning – save yourself from a potential career disaster with this! |
| | If you're not bringing these to your next presentation, you're missing a huge opportunity to capture the hearts and minds of your audience. |
| | Break every public speaking rule on stage except this one – and 90% of the time, your audience will still love you. |
| | |
As you can see, Fearless Presentations Homes Study Course is packed with incredibly useful and 'actionable' information, and it's got a complete money back guarantee. But I didn't stop there.

You'll also discover these secrets:

| | |
| --- | --- |
| | What a popular sitcom in the 1990s can teach us about public speaking anxiety. |
| | How to "cancel out" audience boredom using the power of stories and anecdotes. |
| | The "dirty" secret behind many anecdotes told by famous speakers – sneaky, but completely ethical. |
| | How to "neutralize" difficult or hostile questions from an audience member – this may even win the hostile questioner to your side! |
| | How to use your DVD player to come up with interesting analogies to interest your audience. |
| | What you can learn about the art of showmanship from a visit to your local state fair. |
| | An ingenious strategy for stopping any nervous or annoying gestures during your speech. |
| | The 10 most "deadly sins" which cause an audience to absolutely hate your presentation. |
| | How to turn some of the most embarrassing events in your life from painful memories into powerful tools to make an audience love and respect you. |
| | Turn your weaknesses in public speaking into strengths – it's the same technique used by successful stand-up comedians and politicians. |
| | An "almost magic" way to handle tough questions from the audience (you can also use these on job interviews, or when answering on-the-spot questions from your boss or customers.) |
| | Other secret techniques you won't learn from Toastmasters, Dale Carnegie or anywhere else. |

And much, much more!

"This presentation training class totally exceeded my expectations, and I have highly recommend it to my friends and coworkers!"
– Addell Abdella, Houston, TX

In fact, the step-by-step structure of this course makes it a no-brainer to walk through the simple process to replace your fears of public speaking with confidence, poise, and enthusiasm.

Pretty amazing stuff, and like I said, this was just a "sneak peak"… not everything you'll discover in the home study course.

Click here to end your fear of public speaking today.

But don't take my word for it, listen to the…
Praise for the Fearless Presentations® Live Seminar

"The best part about the class was learning a comprehensive format for developing a more compelling and audience focused, good presentation."
– Alenka Manners, Toronto, ON


"I was expecting a lot, and the presentation training exceeded my expectations. The content and instructor were absolutely outstanding."
– April McDavid, Carolina Beach, NC


"The class was fun! I thoroughly enjoyed the program and feel that I came away with way more than I expected."
– Amy Reilly, Baltimore, MD


"WOW!! What a class. It exceeded my expectations in every way."
– Chris Ravenshot, Ann Arbor, MI


"What I got out of the first morning was worth the tuition."
– Trevor Hansen, Mesa, AZ


"Totally changed my mindset on how to prepare and deliver a really good presentation. I can't wait to deliver my next business presentation."
– Will Wannamaker, Columbus, OH

Are these professionals any different from you? No, they are not. They represent lawyers, salespeople, customer service reps and others with the same needs to succeed in their careers, with the exact same fears and doubts about their ability to speak in front of people.

The only thing they did was to put their doubts aside… and gave this new program a try. For some of them, it cost several thousand dollars in travel expenses – which they believed was worth every penny.

If you, too, can simply put your doubts aside for a short time, you can see for yourself just what it's like to get these same benefits, but minus the cost and time of travel. Further, you can gain all these from the comfort of your own home, and on your own schedule.
Are You Afraid of Public Speaking?
Is It Showing Up in Your Paycheck?
It's pretty much a fact of life the most successful and highest paid people are the ones who are ready, willing and able to, not only speak to groups of people, but to also move and inspire them.

And not just from the podium either. From job interviews to business meetings, the way people present themselves and their thoughts by speaking has a potential make or break your career.

It deeply bothers me most people are feeling crippled in their personal and professional lives by a fear of public speaking.

This causes them to avoid leadership roles at work, cower in the corners instead of speaking up, and worse, not contributing their own unique perspectives and knowledge for the benefit of all. As a result, their true potential remains unrealized.

Think about all of the miss opportunities the average person passes up because of public speaking fear. People who present well or communicate confidently are promoted faster, average over a 30% higher income, and are seen by their peers as being "experts" in their industries.

People who don't speak confidently, frankly, don't have these advantages. And why not take every advantage you can, especially in today's difficult economy?

What will your career look like once you master the art of public speaking? Well for one, not only will your fear and anxiety of speaking seem to magically melt away, but the fear will soon be replaced with another feeling…
Not only that, but you'll also gain these benefits in both your personal and professional life:
| | |
| --- | --- |
| | Feel 100% comfortable and relaxed whenever you speak in front of people. |
| | Catapult your self-confidence and self-esteem to the stratosphere. |
| | The ability to make people believe in what you say. |
| | Gain instant credibility and respect in your company or industry. |
| | Destroy any hint of shyness in your personal and professional life. |
| | Sell yourself and your ideas naturally and powerfully. |
| | Overcome objections with grace and tact in any meeting and conversation. |
| | Drastically increase your salary, income, revenue or commissions. |
| | Be understood and (most importantly) have your message remembered. |
| | Never skip a beat when your audience (or anyone else) starts blasting you with tough questions. |
| | Get people to take action because of hearing your message (must-have for salespeople!) |
| | Command the respect you deserve from your boss, coworkers and customers. |
| | Feel the joy of inspiring people to make positive changes in their lives. |
| | Make others notice and respect you as a person of authority. |
| | Impress potential employers in job interviews, or ensure job security for your current position. |
| | Inspire and move friends and family during wedding toasts, eulogies, and social occasions and ceremonies. |

Can you imagine how great it will feel to have all these in your back pocket, ready for use whenever you have the opportunity to speak in front of people?

Now it's your turn to hone your public speaking skills to world-class perfection and multiply your results and income, too…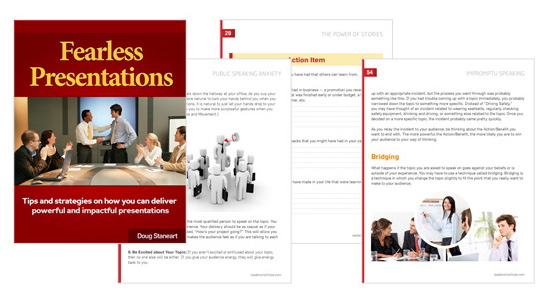 Here is Exactly What You Get
In This On-Line Course:
The Best Selling eBook — Fearless Presentations® – Fearless Presentations is the book that started it all. The simple step-by-step process laid out in this book makes the elimination of public speaking fear, the preparation for formal presentations, and the delivery of these presentations simple and easy. That's why so many people have benefited so greatly from it.
9 On-Line Videos with more than 4.5 full hours of Doug Staneart, CEO of The Leader's Institute® and creator of Fearless Presentations® delivering the entire course.
5 MP3′s with more than 2.5 full hours of unedited audio where we reveal tips, secrets and techniques you won't find at Toastmasters, Dale Carnegie or anywhere else, including…
10 Ways to Reduce Fear and Stage Fright: Just about everything that you have ever learned about public speaking is wrong! That is why so many people have a fear or anxiety about public speaking. This recording offers 10 simple things that anyone can do — right now — to reduce nervousness immediately.
The Power of Stories and Examples in Presentations: Everyone wants to be charismatic and at ease when they present, however, few people know the real secret of connecting with an audience. Speakers who flip through slide after slide reciting data point after data point are boring. Speakers who present their data, and then use the power of examples or stories to reinforce the data capture the attention of the audience, are memorable, build rapport, and establish a tremendous amount of credibility.
How to Write a Powerful Speech in 15 Minutes or Less: Designing presentations is easy when you know a few secrets of great presenters. More is not always better. A well-designed presentation focusing on the key, most important, concepts and backed up with compelling evidence is received much better than 120 slides of data.
10 Ways to Add Impact to Any Presentation: Once you have a compelling speech designed, it is important to add impact so that your audience both understands your key concepts and remembers them! These 10 ideas will add tremendous impact to your presentation and leave your audience wanting more.
How to Add Energy and Enthusiasm to Any Presentation: Tired of the slow… boring… meeting or presentation? Then add some energy and enthusiasm to your delivery. The biggest secret of world-class speakers is that you can break just about every rule for public speaking, and as long as you have some energy, the audience will still love you.
Downloadable Speech Organizers: Use these handy worksheets create your presentations from scratch in minutes!
The entire course is digitally delivered, so you can review the content over and over for until you have mastered each step! If you order today, your total investment for this program is only $249 (plus shipping).

Remember, hiring a public speaking coach can cost $8,000 or more. Attending a live seminar can cost $1,000 or more. The Fearless Presentations® Home Study Course will give you everything you need to develop your public speaking skills, from the comfort and privacy of your own home.




Click here to end your fear of public speaking today.

WARNING: You Need This Information Before You Give Your Next Presentation!

So here's the real question:

Are you finally going to finally take the next step – and impress the heck out of your boss and clients by delivering the knock-out presentations you know you're capable of?

Or will you just keep trying to avoid the problem of your fear of public speaking forever.

The choice is yours.

The information contained in the Fearless Presentations® Home Study Course could mean thousands of dollars in your pocket in the coming years.

It can be the ticket for your career advancement. It can be your "golden key" to success. It can mean greater respect from your peers, customers, subordinates, managers, friends spouse or loved-ones. It's a surefire ticket to increased income and financial freedom.

The entire course can be accessed immediately. In a matter of a week, you can rapidly gain the confidence you need to make a world-class speech to even a large audience.

And remember, you could be asked to make a presentation in a matter of weeks, or even tomorrow – either at your job or in your personal life. And when the big day of your speech dawns, will you be 100% ready and confident to do a fantastic talk that "wows" your audience…

…or will you be standing on stage, completely miserable…or worse, making excuses to not do the talk and living with the regret?

Take action now, do not wait. Click the link below to secure your copy of the Fearless Presentations® Home Study Course and end your fear of public speaking today.
Click Here to Order Now.

Dedicated to Your Public Speaking Success,

Doug Staneart

CEO of The Leader's Institute®




P.S. Please allow me to be blunt: If you pass on this offer, will you be a better speaker a month from today? Probably not! You'll still wish and want it, but you'll still have stage fright and dread your next speech. Face it. Most of what you need is instruction and encouragement. Get this course NOW and cure your stage fright as fast as one week from TODAY! Wouldn't you like to learn how to have more confidence in front of people within a week?

P.P.S: One more thing – your investment Fearless Presentations® Home Study Course is likely tax deductible, saving you even more money. Pease ask your accountant and tax professional for more details.