Fearless Presentations
Fearless Presentation ® Public Speaking Course
Tens of thousands of people have successfully overcome their public speaking fear with the Fearless Presentations® public speaking training course offered by The Leader's Institute®. This two day class is offered as an open-enrollment seminar in over 50 cities around the world for less than a thousand dollars per person, and instructors are strategically located in major cities across the United States, so custom classes or private sessions for individuals and groups are very economical.
Standard Modules for the Class
Ten Ways to Reduce Public Speaking Fear
Improving Memory to Deliver Presentations without Notes (or PowerPoint Cues).
Powerful Introductions to Build Your Credibility
Capturing and Holding Audience Attention
The Power of Stories and Examples
A Simple Three-Step Process to Quickly Design Persuasive Talks
Impromptu Speaking Made Easy
How to Write Entire Presentations from Scratch in 15 Minutes (or Less)
Five Ways to Add Enthusiasm to Any Speech
Ten Impact Ideas that will Wow! the Audience
Audience Participation to Gain Concensus
Secrets to Designing and Delivering PowerPoint Presentations
Fearless Question and Answer Sessions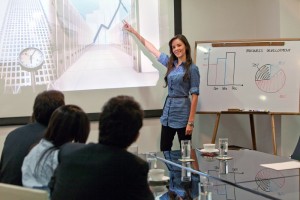 Optional Modules for Private Sessions
Designing and Closing Sales Presentations
Impactful Boardroom Presentations
Designing and Delivering Keynotes and Breakout Sessions
"Short-List" and High-Level Sales Presentations to Groups
For Details about Class Schedules or for More Details, Visit www.FearlessPresentations.com
I'd Like More Information.